Description
Product Description
Highlights:
Complete kit and instructions for ease of installation

High flow intake in carbon fibre housing

Hand fabricated aluminium piping

Maximises density charge of cold air for increased performance (8bhp)

Aesthetically pleasing design
Product Information
This kit comes with everything you need for the installation.
It uses a carbon fibre canister to house one of our high flow air filters. The aluminium components are hand fabricated in our UK headquarters.
The cold air feed is drawn in from the scuttle panel, this maximises the density charge of air entering the turbo intake. The flow of this can be seen in the image below.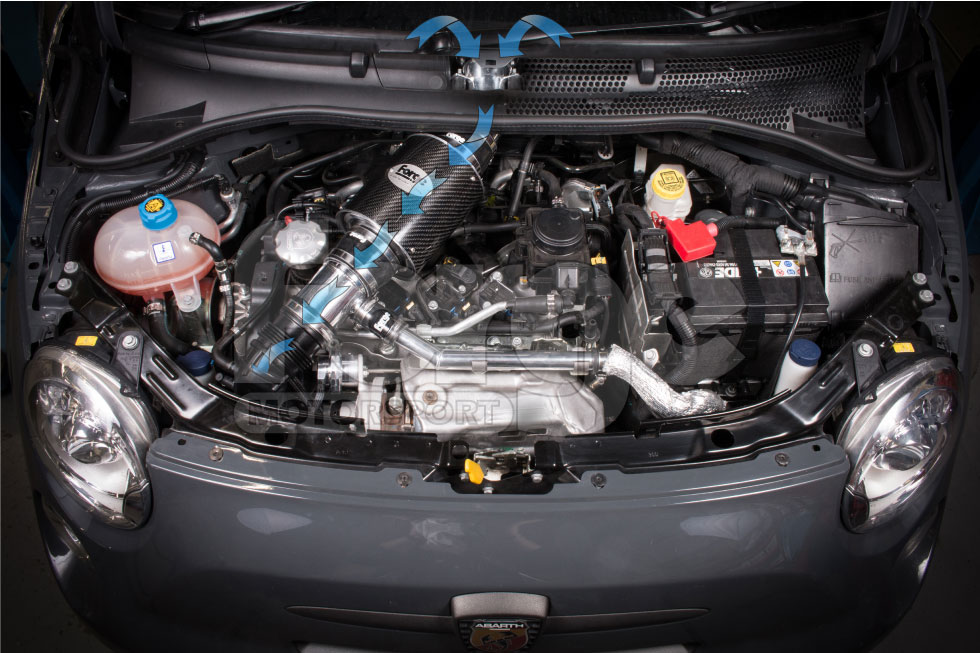 This combination of temperature and density gave us an 8bhp increase on our test cars as well as an incredible induction noise.
It will put a smile on your face not only when you feel the power gains, but also when you open the bonnet and see this beautiful product sat in your engine bay.
Please note: This filter will NOT fit the 2012-on Multiair engine
For Replacement Filter please see this link

Please watch our video on how to fit an air filter without damaging it.
Please Note:

In line with our policy to constantly review, revise, and improve our product range, the appearance of the product you receive may differ from the one advertised.
Product Reviews
Product Reviews
Be the first to review this product
Want to leave a review?

Login Register FREE!
Compatible Vehicles
Instructions
Warranty
Warranty Information
All Forge Motorsport products come with a limited lifetime warranty. All warranty claims must be accompanied by the original proof of purchase to enable us to help you. Failure to supply this proof will result in your claim or enquiry being denied.
For further information, please contact our customer service team.
Do not use aggressive (acidic) car cleaning products, particularly traffic film remover solutions or shampoos to clean your intercooler, radiator or oil cooler. The use of these products can damage Forge Motorsport cooling systems and invalidate your warranty. These are often found at car washes. A light, warm, soapy solution (free of harsh acidic cleaning compounds) should be used to clean you cooler and thoroughly rinsed away. We recommend that you should inspect your product on a regular basis for bent and/or crushed fins. Any bent fins should be carefully straightened to allow ambient air to pass through the core face. At the time of installing your Forge radiator, an approved coolant must be used and added to the coolant system. Be sure you never mix coolant and always use distilled water.
Shipping
Shipping Information
Shipping Charges & Services
We will contact you after your order is placed to advise of available shipping services and costs and to take payment from you.